Monthly Maths Challenges
Enrich your mathematics with these challenges!
Don't forget to hand your solutions to Ms. Carter and you may have them published on the website. Remember to explain your methods clearly for other people to read and try to give reasons or convincing arguments or proofs where you can.
Have fun!
Key Stage 2 - March problem
Prison Cells
There are seventy eight prisoners in a square cell block of twelve cells. There is one prisoner in one of the cells, two in another cell, three in another, four in another and so on up to twelve prisoners in one of the cells.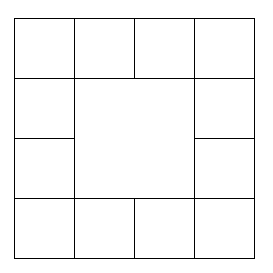 The clever prison warder made it easy to check if the prisoners were all there by arranging them so there were twenty five along each wall of the prison block. How did he do it?
Key Stage 2 - February
Twenty Divided Into Six
Katie had a pack of twenty cards numbered from 1 to 20.
She arranged the cards into six unequal piles.
The numbers on the cards in each pile added to the same total.
What was the total and how could this be done?
No solutions handed in for this problem yet but there is still time!
Key Stage 1 - March problem
Eggs in Baskets
There are three baskets, a brown one, a red one and a pink one, holding a total of ten eggs.
The Brown basket has one more egg in it than the Red basket.
The Red basket has three fewer eggs than the Pink basket.
How many eggs are in each basket?
Click on the smiley face to see children's solution for this puzzle.
Key Stage 1- February
Noah
Noah saw 12 legs walk by into the ark. How many creatures could he have seen?
How many different answers can you find?
Can you explain how you found out these answers?
Click on the smiley face to see children's solution for this puzzle.
If you liked that problem then you might like to try these:
Mystery Matrix