Weekly Home Learning - Maths
Don't forget, for extra maths there are always the 'Monthly Maths Challenges' (click here).
This week we have been learning how to add and subtract fractions with the same denominator and next week we will be learning how to do this if the denominators are different. Practise your skills by completing the worksheet (copies are available in class in you can not print it out).
Friday 22nd March
As we have been learning about fractions, your task this week is to make a poster that will clearly explain to others how you go about finding equivalent fractions.
Friday 8th March
We have been learning how to divide a 4 digit number by a single digit using short division. Your task for this week is to practice this method.
Roll a dice 4 times to create a 4-digit number, this is your dividend.
Roll it once more to generate the divisor.
Your task is to calculate the quotient.
Remember you can draw a place value grid if that helps.
Dividend ÷ divisor = quotient
Friday 15th February
After half term, we shall be looking at division in maths. In order to help with this look at each of the times tables; for each multiplication, what are the two related divisions
e.g. 6 x 7 = 42 so 42 ÷ 7 = 6 and 42 ÷ 6 = 7
How quick can you become at recalling all divisions for a multiplication table?
Friday 1st February
As we have been learning about multiplying a 4-digit number by a 1-digit number, your challenge this week is to create and solve 5 multiplication calculations. For each problem think:
What is the multiplicand? (each digit should be different)
What is the multiplier? (It must be >2)
How will you calculate the product?
Remember that you can you a PV grid to help you visualise these calculations, it is really helpful especially if there are regroupings.
e.g. 2,315 x 3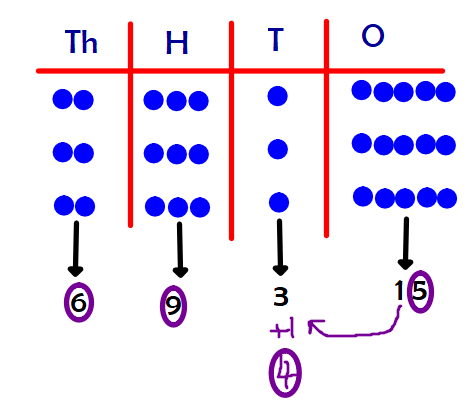 Can you think of a word problem that could go with your calculations e.g. Sam was buying a new car. She paid for it in three payments of £2,315. How much was Sam's car?
Continue to play on TT Rockstars. This week keep playing in the studio section to see if you can increase your rock speed, but also practise in the Garage section to play only tables you have been set and to earn more coins. Really focus on those facts that you take you longer to calculate and don't forget the related divisions. Good luck, I shall look forward to seeing how many coins you earn this week. Good luck!
As we have started playing on TTRockstars this week, your homework is to have a go in the Studio section. When you play in here ten times you will be given a rockspeed and can then start moving from a Wannabe Rock star to a Rock Legend. Click on the date to go straight to the website.
Friday 30th November:
In maths this week we have been learning about prime numbers and square numbers.
Write down all the square numbers up to 100 and all the prime numbers less than 100. Your challenge this week is to see if you can make a square number by adding two prime numbers together? How can you be systematic? Explain (in writing) how you went about finding all the solutions.
We have been learning about multiples, factors and common factors in maths this week. Please click on the date to find the homework on common factors for this week.
As our next topic in Maths is multiplication and division, keep practicing your times tables. If you haven't completed your multiplication grid then please do as we will be using these this week.
During the holiday, I would like you to complete the multiplication square (you should have all been given one today, but if you have lost it just click on the date). Once you have completed all the boxes, think carefully about which facts you are confident with and colour those in. By colouring in the ones that you know, you can easily see which ones you still need to practice and you can focus on just a few each week. Please bring it in on Friday Nov 9th.
Friday 12th October:
We are starting to think again about using the column method for addition. The children were really helpful today as I kept making lots of mistakes. I have just done this problem, could you have a look and see whether I have finally learnt this method. If not where and why have I gone wrong.

I think I need to practice a little more. Could you make up ten addition problems (using up to 6 digits for each number) for me to try. You will also have to make an answer sheet so you can check that I have done every step correctly. If you want me to have a challenge perhaps you could give me three numbers to total.
Friday 28th September:
We learnt a learning rap this week to help us remember how to round numbers, This week I would like the children to make a poster to help others remember how to round to the nearest 10, 100 or 1000.
This week we had a go at rounding numbers to the nearest 10, 100, 1000. Have a go at the worksheet (click on the date), don't worry if you can't do them all, just try the ones you feel confident with and we can talk about the rest at school.
Friday 14th September:
This week we have been thinking about different ways to represent numbers.
Choose your own 4 digit number; how many different ways can you find to represent it? You could show it using: words, base 10, p;ace value counters, part-part-whole models, bar models, number lines, Roman Numerals, number sentences, diagrams and illustrations, .....Who can find the most ways? Do different numbers have more possibilities?
Weekly Home Learning - English
Friday 26th April
leisure
sincere
soldier
stomach
suggest
twelfth
variety
vehicle
Friday 5th April
equip, rhyme, yacht
system, symbol, rhythm, occupy, muscle, harass, bruise
Friday 22nd March
Look for examples of sentences containing relative clauses. Copy the sentence out and underline the relative clause. Try and find at least 8 sentences. Hint- look for the relative pronouns
Friday 8th March
Following on from our trip to the South Downs Planetarium, can you find out about what happened on the Apollo 13 mission? This was a mission intended to go to the moon but they never landed ....what happened?
Friday 15th February
After half term, we shall be looking at the spelling lists for Years 5 & 6 for a couple of weeks. Take a look at the word list below. Are there any words that you can already spell? If so that is brilliant, add these to an 'I Can Spell' list. Pick ten words that you are going to learn over the next week, these now become your 'I am Learning' list. Practise these three times a day, spell them forwards, backwards, writing them with your right hand, left hand or even with your foot! Look for these words every time you read. Once you are completely confident that you can spell a word, add it to your 'I Can Spell' list and replace it with another one on your 'I am Learning' list.
Friday 1st February
We have been learning about apostrophes. Can you remember the two reasons why we use an apostrophe? This week, I would like you to try and find examples of apostrophes being used in a book (at least 10).
Copy the word

Explain why the apostrophe has been used

How could you write the word/sentence without using an apostrophe but still keep the meaning the same
e.g. This is Sam's new car. This is the new car that belongs to Sam.