Maths at Pgs
INTENT
At Peter Gladwin, our intent is for children to leave as confident, skilled and resilient mathematicians who understand that mathematics is an integral and fundamental part of everyday life and the world we live in. We want children to develop a healthy and enthusiastic attitude towards mathematics, and a deep understanding that will stay with them for life. We want all children to enjoy mathematics and to experience success in the subject.
Carefully-sequenced learning, taking into account what has been taught before and what knowledge and skills are needed for the next stage of their mathematical development, ensures a secure understanding of mathematical structures and allows for deep connections to be made.
Our maths mastery curriculum aims for children to become fluent in the fundamentals of mathematics, to possess a growing confidence to reason mathematically and to solve routine and non-routine problems with increasing independence.
By achieving these aims, our children will leave Peter Gladwin as knowledgeable, skillful and confident mathematicians, ready for the next phase of their learning.
Our curriculum is sequenced in line with the EYFS Statutory Framework (2020), Development Matters (2020) and the National Curriculum for Mathematics (2013).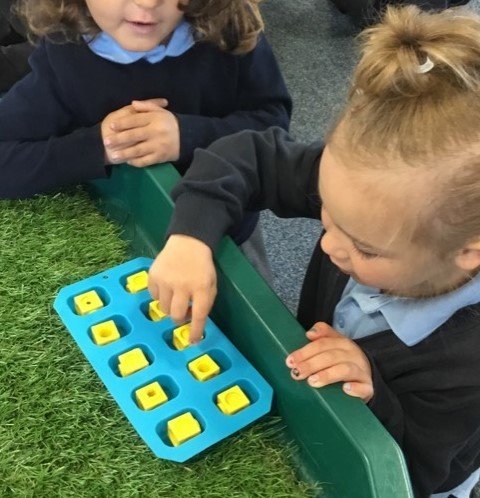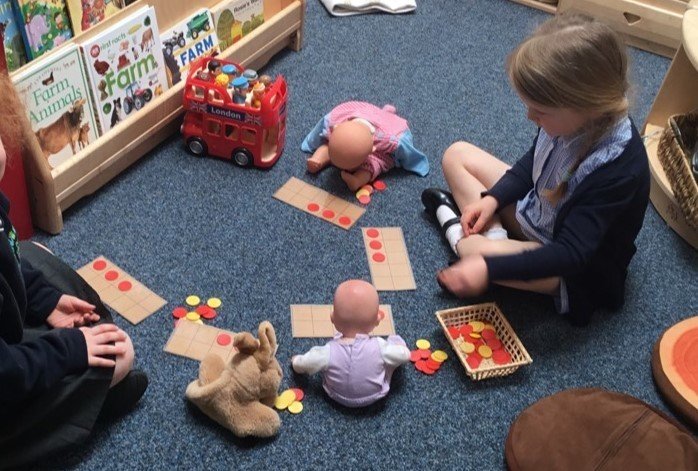 IMPLEMENTATION
The principles of teaching for mastery are used consistently throughout the school.
In the Early Years, firm foundations are built as children work towards the Early Learning
Goals for 'Number' and 'Shape, Space and Measure'. In Key Stage 1 and Key Stage 2, the curriculum focuses on the following four areas: number, measurement, geometry and statistics. All concepts, across all stages, are taught gradually and at great depth to ensure the learning is secure and sustainable.
Pupils are taught through whole-class, interactive teaching, where the focus is on all pupils working together on the same lesson content at the same time. The curriculum is broken down into a sequence of small manageable steps, in order to ensure that each lesson has a clear focus. Within each lesson, children have the opportunity to acquire, practise, apply and deepen their knowledge and skills as appropriate. The learning needs of every child are addressed through skillful questioning and appropriate, immediate or same-day intervention – this provides the necessary scaffolding or challenge for all.
When children are introduced to a new concept, they will be exposed to multiple representations of it, using concrete, pictorial and abstract examples simultaneously, to support their understanding.
At Peter Gladwin, we place high importance on mathematical talk and language. Lessons will include regular opportunities for the children to discuss their understanding and explain their thinking. The accurate use of mathematical vocabulary and terminology is encouraged and expected. Adults will model how to use it, and stem sentences are a key feature of our curriculum.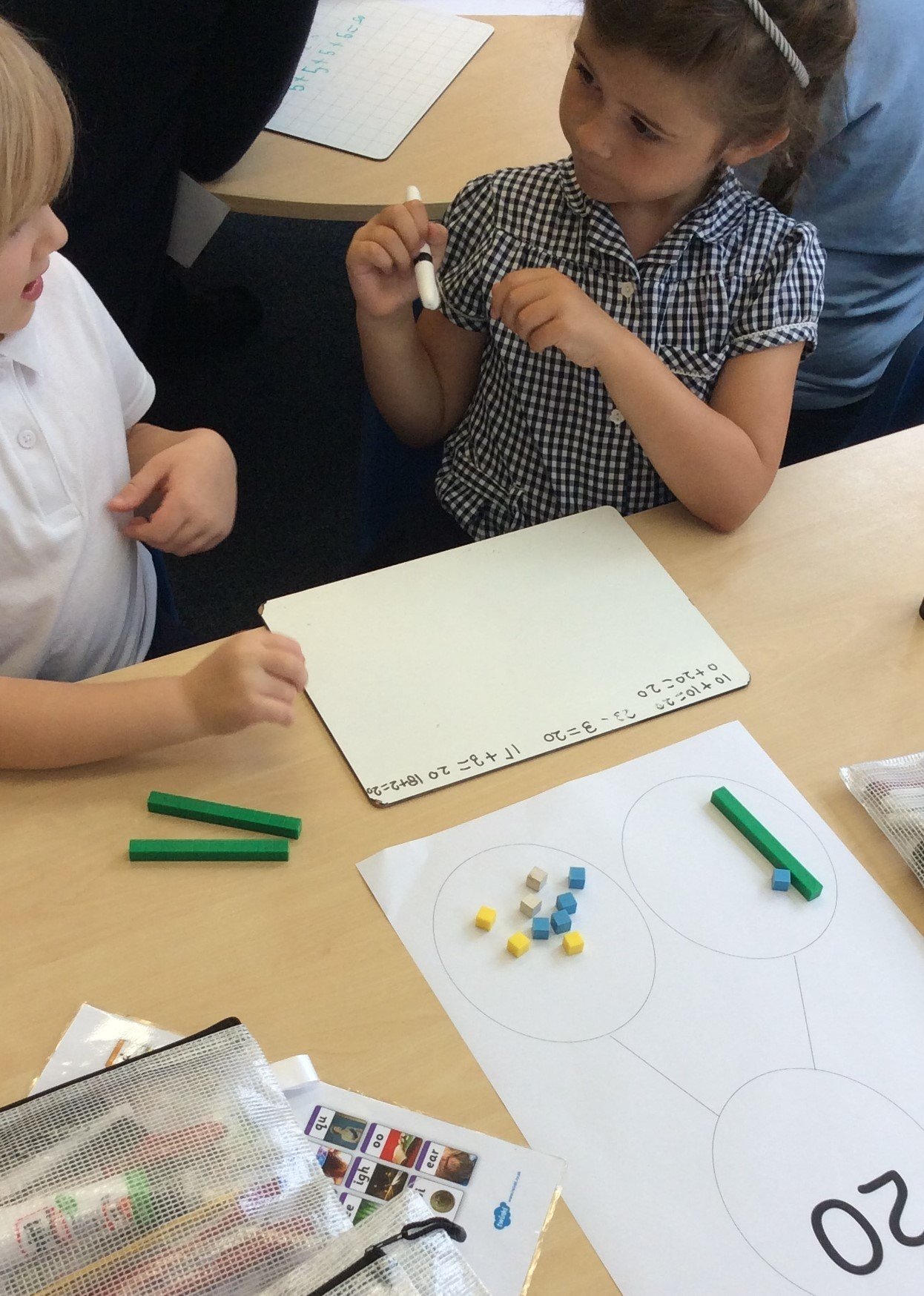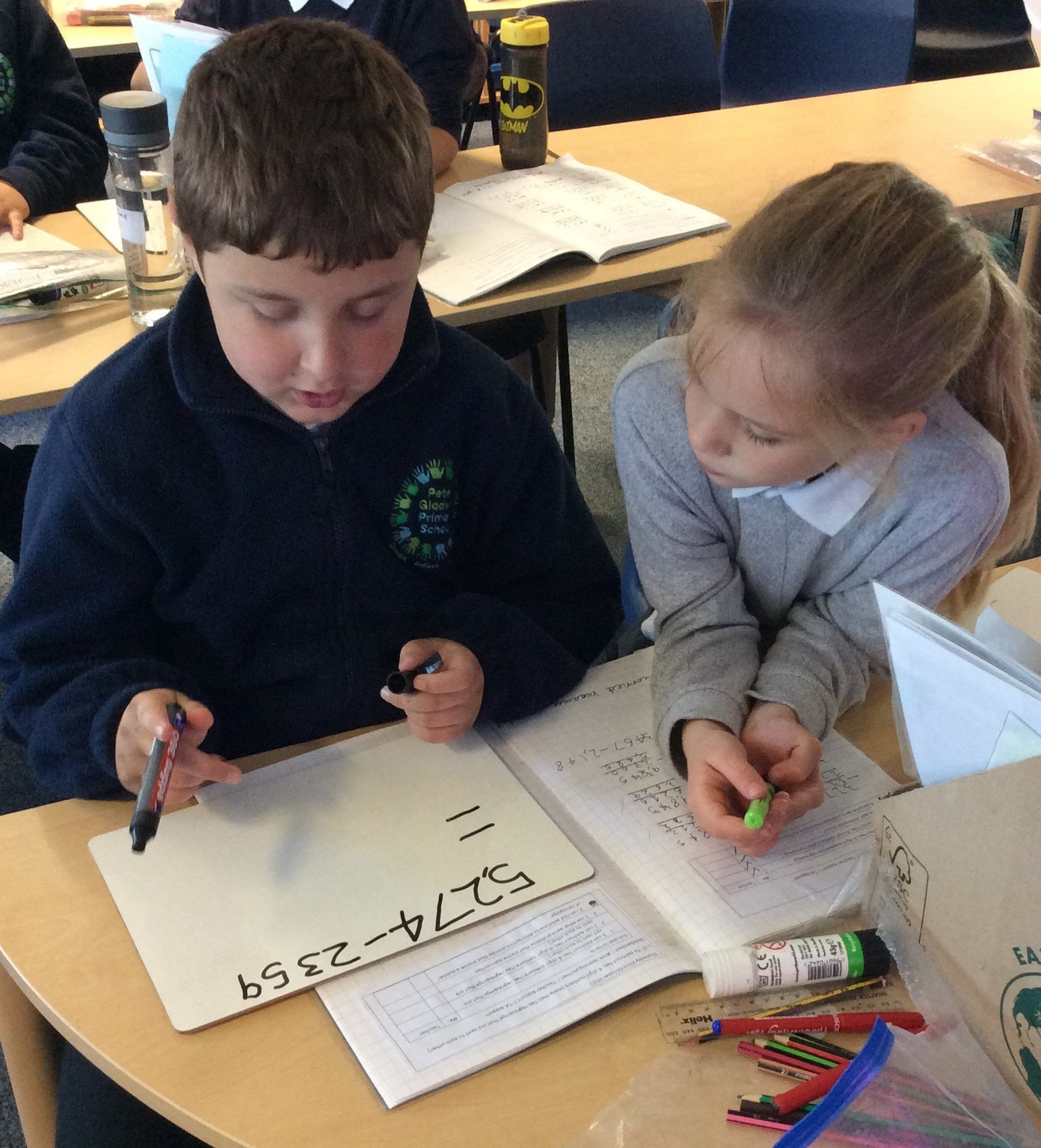 IMPACT
Throughout Peter Gladwin, the most powerful and formative tool to assess and support progress is our teachers' use of assessment for learning. In each mathematics lesson, teachers are responsive to the children's needs by quickly identifying and addressing misconceptions, enabling connections to be made between concepts and recognising opportunities for challenge and in-depth reasoning.
Regular and ongoing assessment informs teaching, as well as intervention, to support and enable the success of each child. These factors ensure that we are able to maintain high standards, with achievement at the end of KS2 above the national average, as well an increasingly high proportion of children demonstrating greater depth in maths.
A review of the teaching of maths at the school, carried out in October 2019, noted the following in their report on the teaching of mastery at the school:
"Pupils clearly enjoy their learning in maths. Children explained that, on the whole, they could clearly see their progress in learning in every lesson. One girl explained that she is no longer left behind in her learning.  If she has struggled in the lesson, she receives help later in the day so that she understands the previous lesson and is ready for the next maths lesson. The children explained how useful they find the concrete resources that are made available to them in maths lessons."
Our maths curriculum ensures that children leave Peter Gladwin with:
a positive attitude to mathematics and the resilience to stick with it even if it gets tricky
the confidence and ability to manipulate numbers in order to solve problems
the ability to communicate what they have learnt with clarity, confidence and accuracy of meaning
the knowledge, skills and confidence to progress on to the next phase of their learning.