Welcome To Reception Class
Please SCROLL DOWN for weekly ideas and support during school closures AND Photo Gallery updated weekly.
Please dip in and out as you choose and email if you have any questions.
Daily 'diet'
When children are in school they have the opportunity to read, write and count every day - we do a lot more too! Little and often sees BIG results.
If you want to follow this model at home why not try the following...
READING: Read books from your book bag, access Oxford Owl for Home for free ebooks ( select levels, book bands and then work your way through pink, lilac and possibly yellow) and play reading games on Phonics Play. This site is free for one month. We have learned the sounds for phase 2 and 3. At this stage there is no benefit racing ahead to phase 4 as all children still need to work on reading and writing every sound confidently in their independent reading and writing.
WRITING: Make the most of any natural opportunity to write - signs for around the house, letters to each other, stories about your favourite toys. Also practise letter formation using the sheet we sent home. Can you say the patter/rhyme as you write the letter on paper, big and in the air, on the ground outside with chalk, in the bath bubbles etc? Why not look at the daily picture on Pobble 365 and see if you can write an interesting sentence to go with it. Don'f forget to look at your sound mat when you write.
MATHS: Count everything! Practise counting forwards and backwards to 20. Top Marks maths have some fun games. We also LOVE Numberblocks which can be viewed using BBC iPlayer. Start with series 1 and work your way through.
***NEW*** Ace Early Years have some great short video clips on their You Tube Channel to give adults ideas for supporting their children's maths and literacy.
But remember... our most IMPORTANT learning happens through PLAY. Make plenty of time for this too!
Let's Get Physical!
Starting on Monday 23rd March, Joe Wicks will be holding a live PE lesson on his YouTube channel at 9am for 30 minutes. He will be doing this Monday to Friday each week to make sure that you keep fit and healthy! Click here for the link to this news.
In reception class we also love learning yoga! It makes us strong and helps our listening and attention skills. We follow lots of the stories on Cosmic Kids Yoga. Click here to watch and scroll through to choose a story.
*** NEW*** Are you ready to go to the Dough Disco ? Grab your play dough and off you go....! (We'd love to see some photo's of this!)
Everywhere Bear and Pete the Cat say "hello."
Over the coming weeks they will be setting you fun challenges to try at home.
It would mean so much to us if you could share what you've been doing by email. We might even feature you on this page!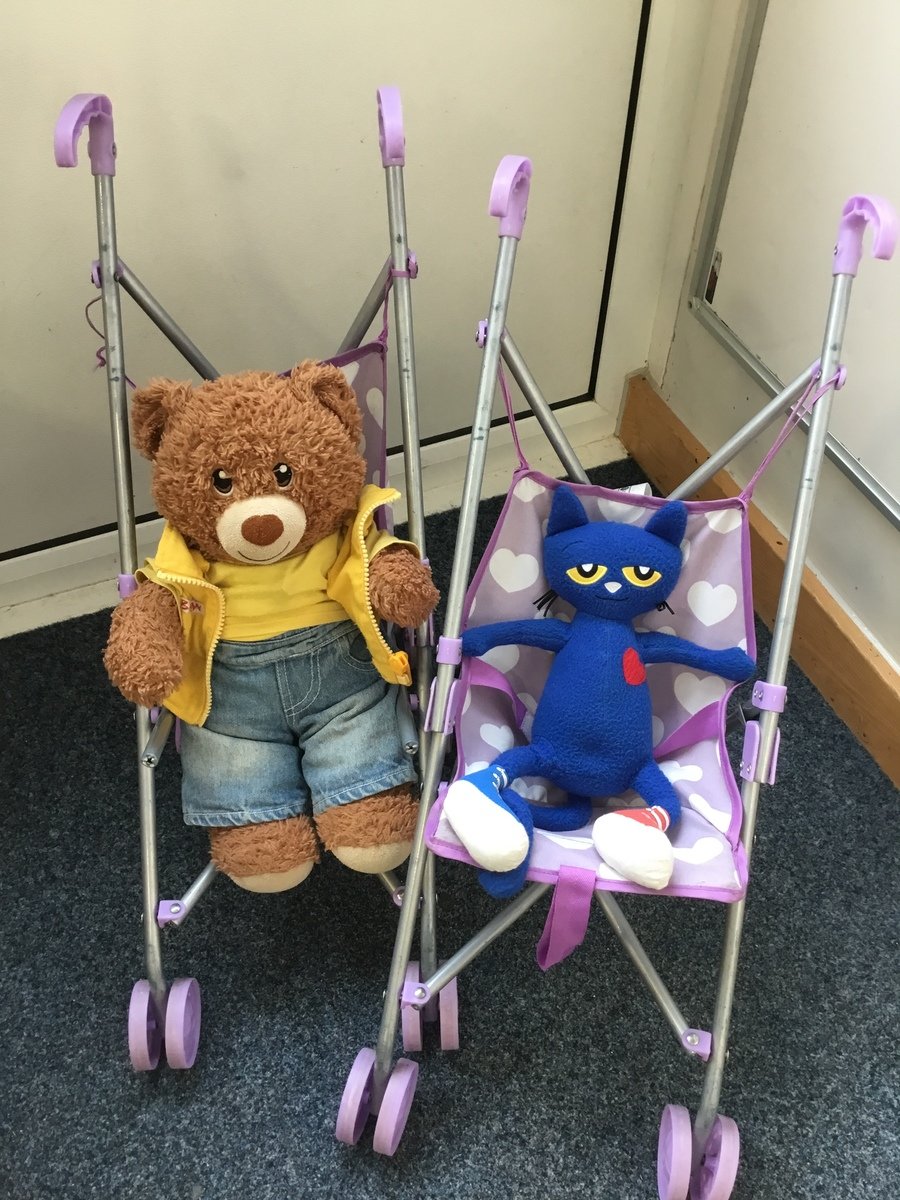 wb 23.3.20 Home Learning Ideas - 3D shapes
We have really enjoyed playing with our 3D shape museum in school. We have learned that 3D shapes are fat not flat! We have named 3D shapes and described them using words such as curved, edges, faces. There are lots of songs you can sing too - Google '3D shape songs' on YouTube and have fun!
CHALLENGE:
Pete the Cat and Everywhere Bear have made their own museum at Mrs Hargreaves house. Can you make your own 3D shape museum at home? Email your pictures and we will feature them on this website (no names of children will be used).
wb 30.3.20 Home Learning Ideas - Story telling and writing
Do you remember how brilliant you have all been at telling exciting stories this year?
Pete the Cat and Everywhere Bear have been busy making their own story shelves at Mrs Hargreaves house and making her giggle with their funny stories.
CHALLENGE
Look at the pictures below. Can you make your own story shelves/area at home? Can you use them to tell exciting stories to your family. Get them to join in too!
Once you are confident telling your story try drawing it or even writing it down. Below you will find some things to help you; a sound mat, a tricky word mat and some notes for the grown-ups.
wb 6.4.20 Home Learning Ideas - Easter holidays!
wb 13.4.20 Home Learning Ideas - Easter holidays!
Families - you have all been absolutely amazing accessing ideas from this page and others to support your children's learning - thank you!
For the next 2 weeks try to take a break and be kind to yourselves. We will be back posting ideas wb 20..4.20.
If you are keen to keep the routine you have established and continue some learning then why not try Mrs Harrison's story reading challenge - one of our class friends has already read her story, it's on Twitter, have you seen the video? It links perfectly with setting up your own story shelves from this week - go on, give it a try....!
You can also continue to access pages above under 'Daily Diet' and 'Let's Get Physical'. See you all soon!
wb 20.4.20 Home Learning Ideas - We're Going on an Egg Hunt
wb 27.4.20 Home Learning Ideas - What the Ladybird Heard
wb 4.5.20 Home Learning Ideas - Supertato
Photo Gallery week 1
Take a look at what your friends have been doing at home!
Photo Gallery week 2
You are amazing Reception Class and we are truly proud of each and every one of you !