Welcome, Witamy, Bienvenue, Hoşgeldiniz, خوش آمدی, Velkomst, 欢迎, Benvenuto, Bienvenido, أهلا بك Welcome, Witamy, Bienvenue, Hoşgeldiniz, خوش آمدی, Velkomst, 欢迎, Benvenuto, Bienvenido, أهلا بك
Brighton & Hove City Council - ePetition - Dangerous crossing opposite Peter Gladwin School
https://phantom.brighton-hove.gov.uk/mgEPetitionDisplay.aspx?id=637&fbclid=IwAR1quMmQV-cu2ESi5OKidgDXCh9x0eMIl3U-IHKHQ-kZH85OUBDhfO81Hz0 .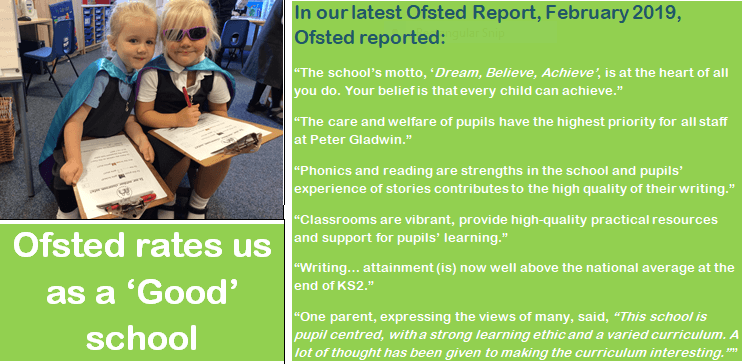 Prospective Parent Meetings 2020
Wednesday 9th October 9:30am
Wednesday 16th October 6:30pm
Wednesday 20th November 9:30am
Thursday 9th January 9:30am
Welcome
An exciting journey starts here....
Creativity, nurture and excellence are at the heart of everything we do at Peter Gladwin. Children are encouraged through growth mindset, 'to be the best they can be'. The children are praised for their efforts and never giving up. We support the children in challenging themselves and taking risks through their academic learning and extra-curricular activities. We are all life-long learners, and have a love of learning. Our small, one form entry community school never stands still.
Latest Term Dates Events
Y4, Y5, Y6 Carols to Parents

16

Dec

2019

9:15 am - 10:00 am
Y4, Y5, Y6 Carols to Parents

17

Dec

2019

2:00 pm - 3:00 pm
Christmas Holidays

23

Dec

2019
Latest News
Please click to see the latest Football, Netball & Basketball results

A practical demonstration of how to help a child cycle free of stabilisers, by Bike-It Ben.
Further Articles »